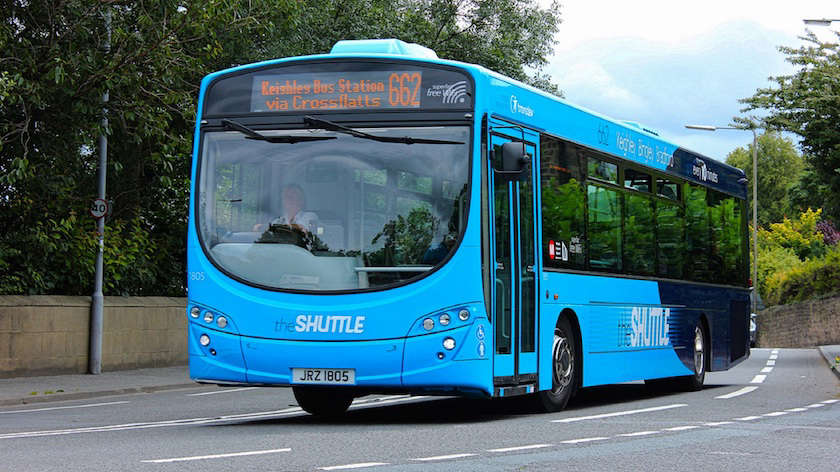 The frequency of bus services from Keighley to Bradford and back is being increased on a Sunday from this weekend.
As of Sunday 5th September there will be 3 buses an hour on the route, so they will run every 20 minutes. Previously it has been a half-hourly service on Sundays alongside the ones that run every 10 minutes on weekdays and Saturdays.
Operator Keighley Bus Company says its space-themed 'Shuttle' service is being made more frequent on a Sunday as more shops and leisure attractions reopen, and there is more demand from public transport users.
The route serves Crossflatts, Bingley and Saltaire on its journey between Keighley and Bradford, and it's hoped the extra Sunday journeys will be popular with those commuting to work in both Keighley and Bradford as well as with families heading out to spend leisure times at key attractions served by the Shuttle.
The Keighley Bus Company's General Manager Alan Isherwood says: "Our Shuttle service is the ideal way to make Sundays special with a trip to the shops or family time enjoying leisure attractions including the National Science and Media Museum in Bradford, the UNESCO World Heritage Site of Saltaire or the Keighley and Worth Valley Railway.
"We're also improving our Aireline service from Keighley into Leeds with an extra morning trip on Monday to Friday to provide extra seats and space for commuters heading into the city. Meanwhile on Sundays, our Aireline buses will run every hour to and from Keighley, with buses every 30 minutes between Greengates and Leeds.
"As students prepare to return to schools and colleges, we've also put together an updated guide full of useful information to help make student travel easier and better value for money. Our website has everything needed to plan a journey, and with our free Transdev Go app offering live information from every stop we serve, it's never been easier to go by bus with us."