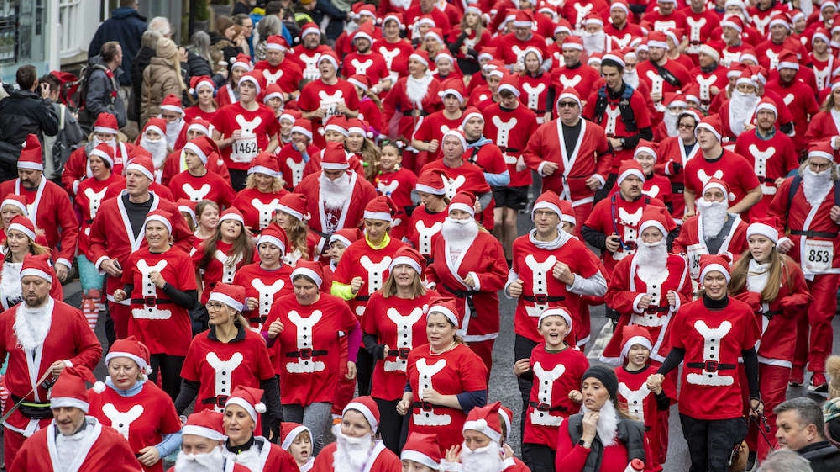 Skipton Santa Fun Run 2022
Preparations for the Great Skipton Santa Fun Run 2023 are well in hand, according to the Rotary Club of Skipton Craven, with a launch event set to take place at Skipton Town Hall at 5pm on Friday (22 Sept).
Starting at 11am on Sunday 26th November, on the High Street, the 14th Great Skipton Santa Fun Run, organised by the Rotary Club of Skipton Craven, and supported by Skipton Town Council, will start off the day's activities to celebrate the beginning of the Christmas Season in Skipton concluding with the switching on of the Christmas lights at 5pm - all hosted once again by Rombalds Radio.
Participants are invited to raise money for their own charities or support the event through sponsorship, and there is a £250 incentive for the first 10 organisations to enter a team of 25 or more.
So, why not run, walk or wheelchair for charity, starting and finishing on Skipton High Street along a 5km course around Skipton, through Aireville Park and Skipton Woods, or a 3km wheelchair friendly route through Aireville Park? Individuals aged 6 years and over and of any ability can take part.
Entry fees are £22 for adults (£25 on the day) and £10 for children 16 and under, and includes a Santa T-shirt, hat and commemorative medal.
Rotarian Peter Ripley, Lead Organiser says: "Over the years, nearly £430,000 has been raised by participating teams and individuals and sponsors, and through anonymous donations, including the £49,265 raised last year to the benefit of Sue Ryder Manorlands Hospice, Marie Curie, The Principle Trust Children's Charity, Skipton Step into Action, Skipton RFC Juniors, Keighley RUFC Juniors, Martin House and individual cash gifts to the needy.
"Last year, 1717 people took part including 2 from Philadelphia, 7 from Rome, 17 from the Netherlands, 4 from Ireland, one from Belfast and one from Penrith. So, come and have some fun with family, friends and work colleagues at The Great Skipton Santa Fun Run 2023.
"Can we reach our target of 2,000 this year? Of course we can!"
Further information can be found at www.skiptonsantafunrun.com or visit https://racebest.com/races/zhy7s to register