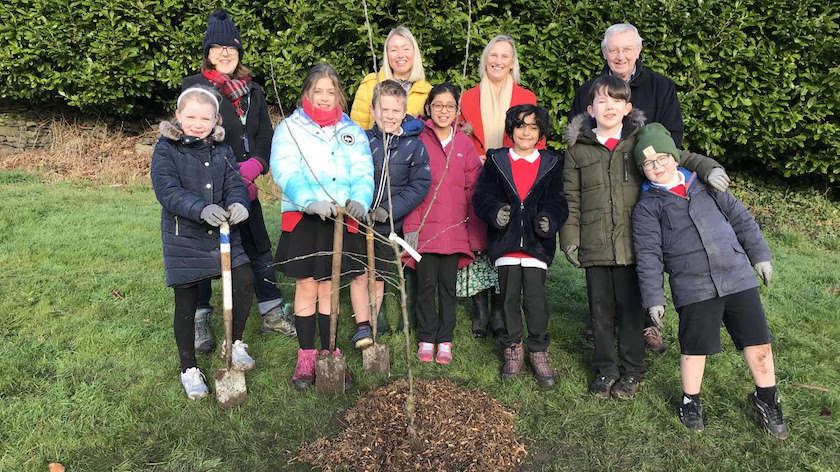 Children from East Morton Church of England Primary School near Keighley have planted fruit trees and shrubs as part of a district-wide project.
Bradford Council's Tree for Every Child (TfEC) scheme will see trees and bushes planted in 20 schools over the coming months through a partnership with Fruit Works.
It continued this week at East Morton Primary. Headteacher Anne Proctor said: "The children in year 4 have been inspired to name our new orchard 'Wangari's orchard' after Mrs Beecroft, their class teacher introduced them to 'Wangari's trees of peace' ; the true story of environmentalist and winner of the Nobel Peace Prize, Wangari Maathai.
"We are grateful to 'Fruitworks' for the delivery of this project. The children really enjoyed getting involved in the planting and are thrilled that the 'fruits of their labour', quite literally, will be enjoyed by the future children at East Morton CE Primary School."
Cllr Caroline Firth, assistant executive member for climate emergency on Bradford Council - who is also the school's local councillor - said: "The youngsters clearly had a wonderful time and grasped why trees are so important, and how to take good care of them.
"This is a practical project that really does engage young people with the world around them. It gets them thinking about and taking care of their environment, which is so important for the future of our district and region.
"Year 4 will be taking responsibility for the new trees and bushes, and are proud to do so. I hope to be invited back again in two years' time to help them eat whatever they decide to make with the fruit."
This is the start of several planting sessions being carried out this year by the council and its TfEC partners, which include Trees for Cities, Forest of Bradford (BEAT), Bradford Environmental Education Service, Yorgreen CIC, Town and Parish Councils.
The Tree for Every Child project, launched in November 2020, aims to plant 55,000 trees – the equivalent of one tree per primary school child – over a two year period.
Bradford Council has invested £250,000 into the programme and invited schools and community groups to express an interest in taking part. The programme is being supported by Trees for Cities which is funded by The Dulverton Trust, The Prince of Wales's Charitable Fund and The Arbor Day Foundation. As well as The players of the Postcode Lottery.
So far over 40 schools have signed up to take part in the project and have native trees, fruit trees and/or hedges planted on their sites.