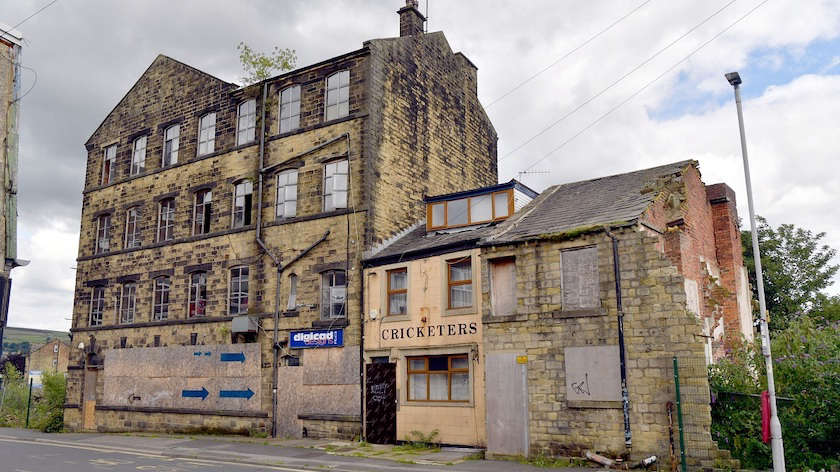 A former pub that dates back to the 1840s can be demolished as part of Keighley's new multi-million pound retail development.
Plans to build a new Aldi store, Tim Hortons drive thru and several other smaller shops on the long empty Alexandra Mills site in Keighley town centre were approved in 2021.
The town's Aldi would re-locate from a smaller unit it is currently based in near the site.
A condition of the approval was that a pub on the edge of the site, the Cricketer's Arms, would need to be retained – despite empty mill buildings either side of it being demolished.
But last year the Cricketer's shut, and has remained empty since.
Aldi purchased the building, and applied to demolish the property earlier this Summer.
The company said that the building was in a poor condition, and pointed out the previous owners had said it was no longer a viable business.
The application to flatten the pub has now been approved by Bradford Council, with planning officers arguing that despite the age of the building, it has little architectural merit, and there had been no public campaigns to retain it.
Planners said: "given its physical condition, there is a strong likelihood that the building is in danger of collapse when the adjoining former mill building is demolished.
"The Cricketers has not been identified as an asset of community value.
"It is unoccupied and in a poor physical condition which is deteriorating over time.
"The building itself has no intrinsic architectural merit nor does it contribute positively to the character of the wider street scene. The Council is mindful that the building is liable to collapse following on from the demolition of the adjacent structures.
"In view of this it is acknowledged that there is no prospect of the building being brought into active use. Given the lack of commercial viability and detracting appearance of the building, the Council would not raise any objections to the development proposal.
"There are clear advantages to the demolition of the property both in terms of public safety and visual amenity. It will also enable the adjacent site to be comprehensively development to the benefit of the wider community and the quality of the town centre overall."
One condition of the approval is that no demolition work can take place between March and late August, due to the possible presence of breeding birds in the vacant building.
The pub was originally known as the Sportsman until Keighley brewery Timothy Taylor's purchased it in 1872 and changed its name. It was then taken on by Worth Inns in 1998.