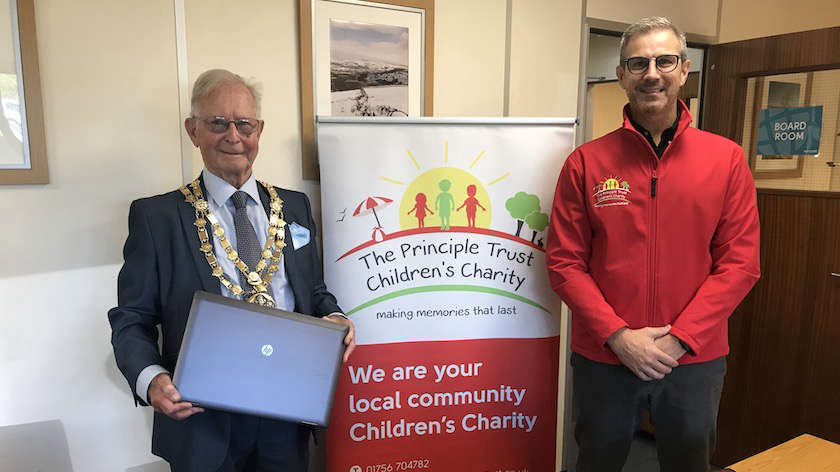 A total of 25 surplus laptops from Craven District Council have been donated to The Principle Trust Children's Charity to support disadvantaged families.
The idea was put forward by the council's Chairman, Councillor Alan Sutcliffe, to hand over councillors' old laptops to the charity to be put to good use.
Their devices were replaced earlier this year as part of an IT upgrade, meaning 25 spare laptops were able to be wiped of all data, cleaned and donated to the Skipton-based charity.
The Principle Trust Children's Charity is the council Chairman's nominated charity this year - it helps to improve the quality of life of children from across Yorkshire who are underprivileged, disadvantaged, and disabled through the provision of free holidays.
The charity will distribute the laptop computers to underprivileged youngsters who would otherwise not be able to afford or have access to the use of a computer.
Cllr Sutcliffe chose the charity over a more high profile one as he wanted to help local people during his year as Chairman.
He commented: "I'm overjoyed we've managed to do this after three months of work. Instead of sitting in a storeroom gathering dust, these laptops can now go to schools that haven't got adequate devices or to homes where children are perhaps being forced to share a computer with a sibling.
"Hopefully they will ultimately be beneficial for the career development of children and help them make a success of their education."
Trustee of The Principle Trust Children's Charity, Andrew Davies, said: "We work with local authorities, social services and charities, providing free week-long respite breaks or holidays for underprivileged, disadvantaged or disabled children.
"To add another string to our bow, we have been helping children during the pandemic and donations like this enable us to provide laptops to schools and to young people who are in need.
"Skipton and Craven has an undercurrent of social deprivation where people are missing out so to be able to help here in the local area is of foremost importance for us. Any support from the local authority and business community is a tremendous help.
"This donation from Craven District Council is a fantastic gesture and certainly something we've looked forward to receiving."
Kerry Magson, Events and E-Commerce Manager at The Principle Trust Children's Charity added: "Last year when children were studying from home it just highlighted that not every child has access to a digital device in order to do their school work.
"Providing these laptops to disadvantaged children in our local community to facilitate their learning and development is a wonderful thing.
"We have a very close-knit group of partners in the community between schools and other organisations, and we will work with them to identify the children most in need for these laptops."