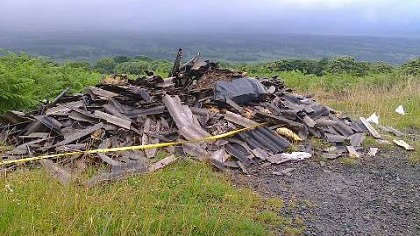 Bradford Council has issued a warning to people in Keighley and Ilkley that bonfire night shouldn't be used as an excuse to dump rubbish illegally.
Dumping any kind of waste material onto an established bonfire is against the law and regarded as fly-tipping, and those responsible can be issued with a £400 Fixed Penalty Notice or could even end up in court.
We're being reminded that if we want to get rid of extra rubbish we should take it to our nearest Household Waste Recycling Centre, which is free, or contact the council's bulky waste collection service. Large items or bags of waste can be collected for a small charge.
Any householder who uses an unauthorised waste carrier to get rid of rubbish can also end up in court or issued with a £250 Fixed Penalty Notice by Bradford Council. Residents a duty of care to ensure that any waste carrier they use is legitimate. If they decide to use someone else to collect their waste, they should make sure they are a licensed carrier. We're told we should get as much detail as possible about who is collecting our waste such as the person's name, company details, vehicle registration number and a receipt. Checks can be made on the Environment Agency website for waste carriers' licences. A legitimate trader will not object to providing those details.
Cllr Abdul Jabar, Executive Member for Neighbourhoods and Community Safety, said: "The bonfire period is one of those times where some people think they can just dump stuff on bonfires – we would urge them to think again.
"Rogue waste carriers regularly use social media to advertise but people should steer well clear if they are unsure.
"We don't want to take people to court or to issue fines but we get the message from residents that fly-tipping, dropping litter and dumping rubbish from cars is not acceptable.
"There are lots of free or inexpensive ways to legitimately dispose of rubbish and we would urge everyone to act responsibly and use the correct method."
West Yorkshire Fire and Rescue Service Area Manager Scott Donegan said: "Bonfire night is not an opportunity to burn waste materials that have accumulated over the year and equally not an opportunity for commercial waste to be disposed of irresponsibly.
"We are frequently seeing waste being tipped which when involved in fire poses a significant risk to members of the public, the environment and the emergency services.
"Our advice for bonfire night is to attend organised bonfire and firework displays, think about your neighbours and dispose of your rubbish responsibly at local waste recycling sites."
Information about how to report fly-tipping and Bradford Council's own bulky waste collection service can be obtained by calling the Council 01274 431000 or online at bradford.gov.uk.