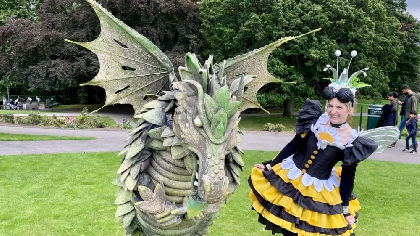 Cliffe Castle Museum and Park in Keighley has received the 'Bees' Needs Champion' award for the second year in a row after staff and volunteers declared 2021 the 'Year of the Bee' and redoubled their work to communicate the importance of pollinators to visitors and the community.
A number of activities and events were organised through the year to help secure the award:
'No Mow May' saw three acres of meadow in the park left to grow with wild flowers to attract pollinators and encourage wild flower meadow walks.
The Pollinator Picnic was held in the summer which included an appearance from the Cliffe Castle Queen Bee and Bracewell the Dragon.
October saw creative workshops on site, which led to a swarm of bee lanterns buzzing in the Keighley Arts Festival Lantern Parade.
Apple Day was celebrated with tastings of the fruit and some apple chutney and apples rely on pollinators to spread their seed.
Surveys have been carried out to record pollinator species and population numbers to measure the impact of the efforts being made.
The Bees Needs Champion award recognises this hard work which was a collaboration between Cliffe Castle Museum and Park staff; the pollinator experts Yorkshire Dales Millennium Trust and Simon Saxton; and Cliffe Castle Support Group (CCSG) volunteers.
The national award was set up by the Department for Environment, Food & Rural Affairs (Defra) to celebrate examples of exemplary initiatives by local authorities, community groups, farmers and businesses to support pollinators.
Rebecca Pow MP, Parliamentary Under Secretary of State for DEFRA said: "I am particularly impressed by the variety of activities such as your wellbeing and wildflower walks, workshops and performances and not to mention your participation in the FIT counts for the Pollinator Monitoring Scheme."
Jason Longhurst, Bradford Council's Strategic Director for Place, said: "I am delighted to hear that Cliffe Castle Museum and Park have received this award for the second year in a row. It recognises all the hard work being done by everyone involved to encourage biodiversity to the site and to promote the important role of pollinators to visitors and local residents."
Cliffe Castle is building on its success by declaring 2022 the 'Bee Kind' year, with a focus on wellbeing of both pollinators and visitors. This got off to a head start in January with its support for the council's Tree for Every Child project, which aims to plant 55,000 trees across the district – the equivalent of one per primary school child. Staff and CCSG hosted the distribution of 400 tree saplings to the community. CCSG volunteers has also planted wild flower plugs in the meadow beds.