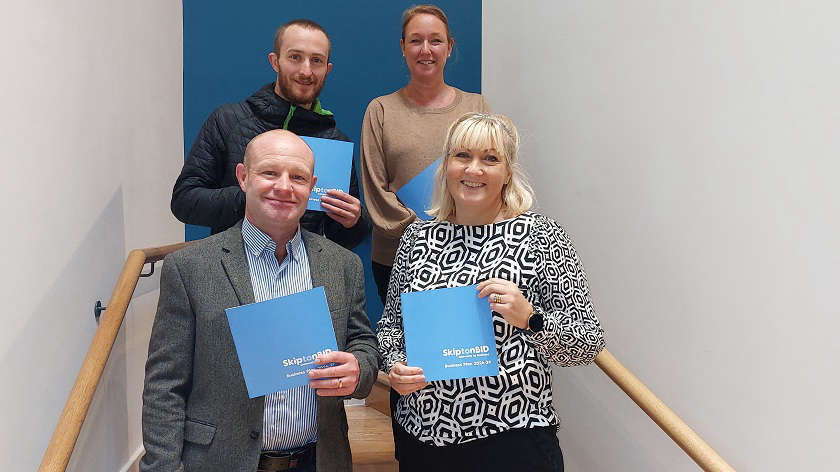 Skipton BID will continue its work for another five years after securing a majority in their latest ballot.
The business improvement district, set up in 2009, has returned a majority of 76% in number of votes and 66% of the rateable value of business premises which took part in the vote.
Andrew Mear, Chair Skipton BID said: "This is a fantastic result, and a great endorsement from our businesses who have been continued to support us and value what Skipton BID can deliver. By voting yes they have secured c.£1million pounds of ring-fenced investment into Skipton over the next five years."
All BID's have to re-ballot every five years and more than 50 per cent of those who take part, representing more than 50 per cent of the total rateable value of the BID area, must vote 'Yes' for it to go ahead. Skipton is only the second BID in Yorkshire to have been successful to gain a fourth term, which allows the BID to continue to deliver projects in Skipton for another five years.
In advance of the ballot, Skipton BID held extensive consultation with businesses including face-to-face meetings, workshops and conducted consumer and business research to identify and set priorities for the next BID term. Businesses were asked to continue a commitment to pay the BID levy which was increased from 1% to 1.5%, which will generate £1 million over the next five years.
A total of 417 voting papers were distributed in October to the eligible businesses in the town centre.
Sarah Howsen, BID Manager said " I am incredibly proud that we have secured another five years and that the businesses have put faith in me to continue to deliver what is best for the town. I am committed to work with all businesses to ensure that they see real benefit from choosing Skipton as the place to invest and to make sure residents are proud of where they live."
The BID is a limited not-for-profit company funded by a levy on businesses and organisations within a specified area of the town centre. It is run by a BID Manager and a Board made up of voluntary representatives of all sectors who receive no remuneration for their time.
The aim of Skipton BID for the next five years is to support businesses to enable Skipton to be a thriving, vibrant town, where residents have pride and shop local, visitors want to visit and re-visit and new businesses choose to invest and stay.
The full business plan can be read at www.skiptonbid.com