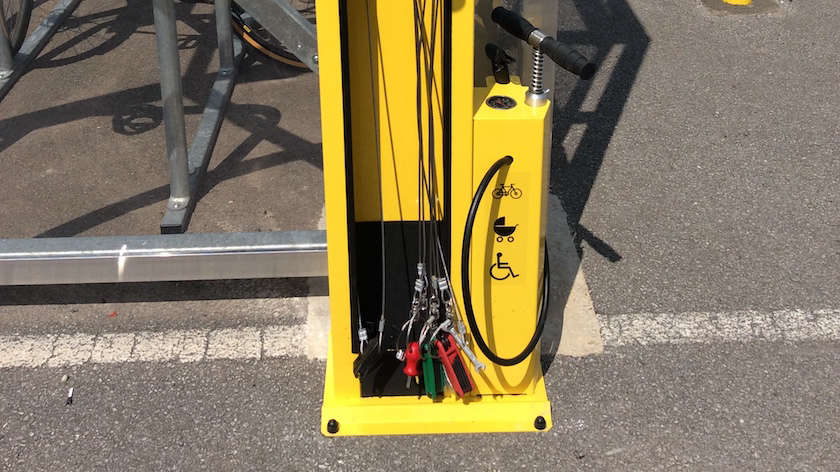 Staff, patients and visitors who cycle to Airedale Hospital can now make use of new equipment and facilities for their bikes.
The secure bike storage shelters and bike tool stands have been provided thanks to funding from Airedale Hospital and Community Charity and the West Yorkshire Active Travel Scheme.
Equipment for repairing and maintaining bikes includes a pump, tyre pressure gauge, screwdrivers and spanners. The facilities are dotted around the hospital site near the main entrances and can be used by the public as well as staff.
The Trust is encouraging members of staff to take part in cycle to work day today (5 August) to benefit both their health and the environment.
This equipment was purchased in order to encourage people to cycle to work to live more sustainably, to improve health and wellbeing, and to provide alternative means to travel to work as people are avoiding using public transport as a result of Covid-19. It makes cycling to work much easier, as there are dedicated, secure areas for staff to leave their bikes while they are at work.
The Trust's estates department, AGH Solutions, worked with the hospital charity to acquire and install the new facilities.
David Moss, Managing Director of AGH Solutions, says: "We were delighted to receive funding from the West Yorkshire Active Travel Scheme to purchase four bike tool stands to situate around Airedale hospital. We encourage our staff to cycle to work to improve health and wellbeing and to meet our sustainability goals.
"By providing bike tool stands cyclists will be able to undertake bike maintenance at their workplace for added convenience. We would also like to encourage members of our local community to use the bike tool stands."