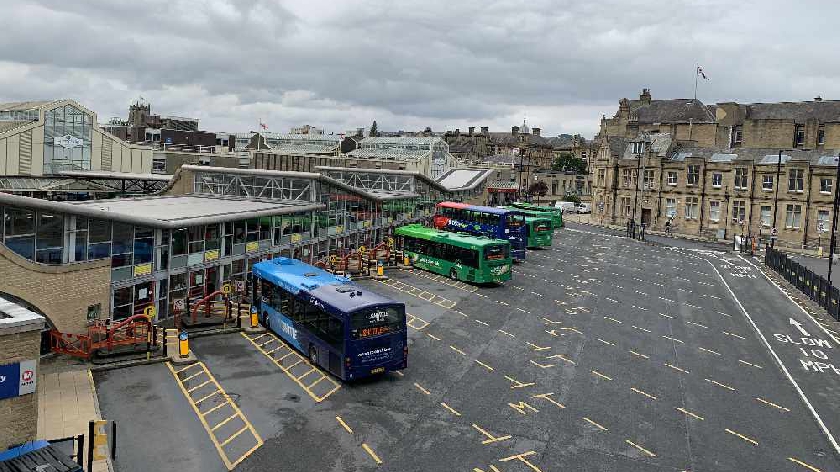 Keighley Bus Station
Proposals to bring West Yorkshire's buses under greater public control will take a major step forward today – and Keighley will benefit from a share of £4m worth of improvements.
A review looking at the best ways to improve local bus services has concluded that franchising would be the preferred option.
Bus franchising would mean West Yorkshire Combined Authority would have control over fares and routes – with services operated by bus companies under contract.
It would mean service frequency, cost and routes would no longer be determined by bus company profits.
West Yorkshire Mayor Tracy Brabin believes franchising would be the best way to improve uneven local bus services, saying she is "sick to death" of waiting for buses that never come.
However, the process will prove a lengthy one, with the first franchised services not likely to roll out until around 2027.
Today West Yorkshire Mayor Tracy Brabin will announce a £4.23m boost in funding to existing services to improve bus patronage in the here and now.
Among services to be enhanced from September are several routes in Keighley, and routes linking Shipley and North Bradford to Leeds.
Speaking ahead of a meeting where the recommendations of the assessment will be discussed, Ms Brabin said:"It is really important people know that I'm a commuter too, and I'm sick to death of waiting at bus stops from buses that don't come.
"I feel the frustration of the public – the majority of public transport users use buses."
She said the recommendation that the franchising option should be pursued was a "seismic moment" for public transport in West Yorkshire, and any improvements to bus services would hopefully get more people out of private cars.
The Authority says the current deregulated system has seen a decline in usership over the years.
The assessment that suggested franchising was preferable to the current system – where the taxpayer subsidises routes run by commercial companies, will next go out to audit and public consultation.
The decision whether to move ahead with the process is likely to be made in March.
Members of the Combined Authority will discuss the assessment at a meeting in Leeds today.
The improvements to existing routes will provide a boost for passengers in Keighley, Shipley and North Bradford.
There will be a £1 flat fare for passengers on Transdev routes on the Keighley Town network.
The K2/K3 service, which runs roughly every 15 minutes between the town centre and Braithwaite, will now run every 10 minutes.
The K7 route between Keighley and Oakworth, which currently runs every 20 minutes, will now run every 12 minutes.
There will also be improvements and more frequent services on the Aireline route between Leeds and Keighley, which includes stops at Shipley and Greengates. Details are still being finalised, but it would likely see services run every 20 minutes rather than the current half hourly service.
These improvements are being funded through the Bus Service Improvement Programme, a £70m pot of cash awarded to the Combined Authority to work with bus companies to improve services.
It has already led to the introduction of "Mayor's Fares" – a £2 cap on bus fares for a single trip, a scheme which is expected to be extended until next year.
Ms Brabin said the capped fares have helped increase bus patronage, which was suffering post-lockdown.
She added: "It is encouraging people to take more bus trips, and in the cost of living crisis it is helping them choose the bus over a car."
Speaking about the public frustration over current bus services, she said: "people we have spoken to are very unhappy about the lack of connectivity, and about ghost buses – buses that the signs say are coming that then disappear.
"it is important for the public to know we feel their pain, and we are doing everything in our power to get them a better bus network.
"Bus companies are cutting routes and franchising would give us that greater control. We're already paying bus companies to keep socially necessary routes – that is coming from the taxpayer."
Bradford Council Leader Susan Hinchcliffe, Chair of the Combined Authority's Transport Committee, said: "The outcome of the Combined Authority's assessment work is a positive step forward on our bus improvement journey.
"But we know we cannot wait to make improvements – and that is why we are investing in improving our bus services now.
"These enhanced services will provide a real boost for our communities."