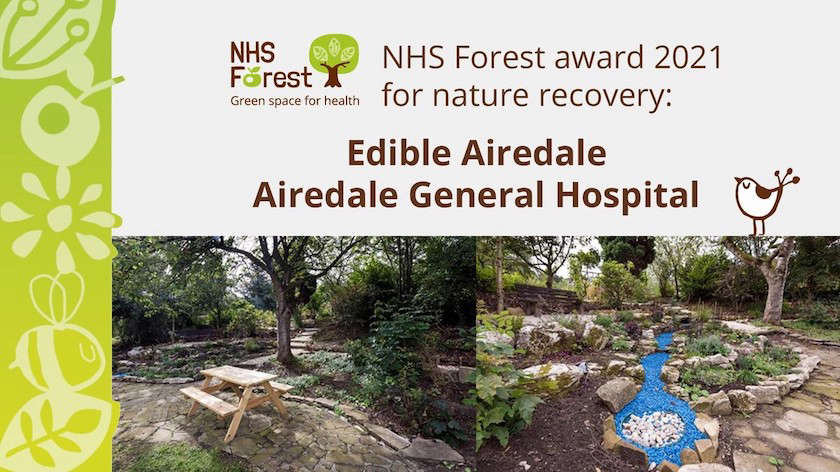 Airedale Hospital in Steeton has been recognised for a project to plant fruit trees as a source of food for the hospital kitchens and local community.
The 12-month long project saw 2,650 fruit trees planted under the banner 'Edible Airedale' to mark the hospital's 50th anniversary.
The Airedale NHS Foundation Trust teamed up with YORgreencic and the environmental charity Trees for Cities.
Steve Marshall, Head Gardener at Airedale NHS Foundation Trust and lead on the project said: "Winning the NHS Forest award is an amazing achievement for us all at Airedale. It just shows that big things can be achieved when the Trust comes together.
"This kind of achievement is only successful because of all the effort that was put into it, especially the funding from such generous people and companies within the community."
Running the awards was NHS Forest, a project coordinated by the Centre for Sustainable Healthcare that aims to encourage greater social cohesion between NHS Sites and the local communities around them. The award ceremony took place virtually on Tuesday 19 October where the project was praised for choosing its orchard trees specifically to benefit the flora and fauna around hospital grounds.
The creation of multiple bee bankings was also praised for its encouragement and protection of bee activity amongst the grounds. The bankings provide living spaces beneath the soil for bees to burrow into.
David Moss, Managing Director of AGH Solutions Ltd, a subsidiary wholly owned by the trust responsible for estates, facilities and procurement services, said: "I am delighted that we have won our first ever NHS Forest award. Our gardening team work extremely hard to ensure that we make the most of Airedale hospital and its lovely surroundings."
Another of Airedale's 2021 environmental projects - The Wellbeing Garden - was also highly commended.
Another of NHS Forest's core aims is to improve the wellbeing of patients, staff and communities, by increasing access to green space.
Airedale Hospital & Community Charity, along with the help of NHS Charities Together, donated 11 new picnic benches to give staff the opportunity to sit, take a break and breathe in the fresh air.
Victoria Pickles, Director of Corporate affairs for Airedale NHS Foundation Trust, said: "We are very lucky here in Airedale to have some beautiful green space and hills around us. Airedale Hospital & Community Charity's support has meant that staff and patients can soak up and admire the natural surroundings. You can really see the positive effects on people who come and take a moment, however brief, to relax in our greener spaces."
On the Wellbeing Garden's commendation, David said: "Having nice green space for our staff and patients to relax in has never been more important, given the challenges that we are now all facing. We will continue to dedicate resources to focus on improving our grounds to benefit our staff and patients and to improve the sustainability of our hospital."
Steve Marshall added: "I'm immensely proud of my team and they fully deserve to be winners. The morale is high and there is a new buzz within the team. The award will take pride of place in our department office."