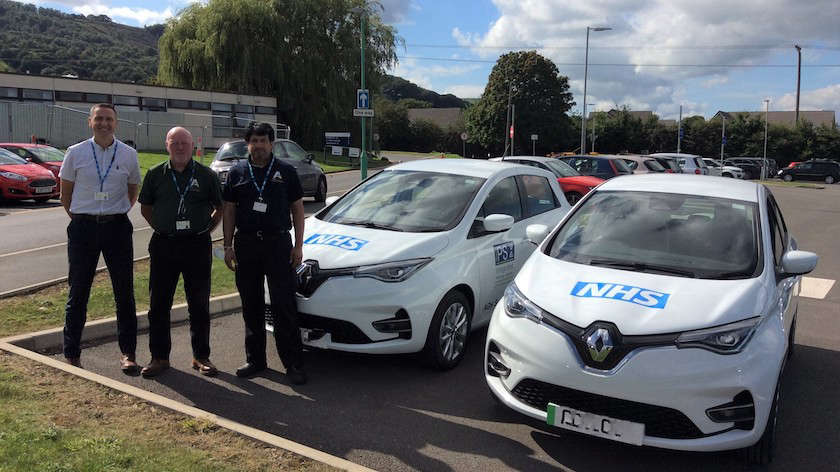 Members of the AGH Solutions Transport team with the new electric cars - L-R: Jon Wilson, Les Marsden and Liaqat Ali
AGH Solutions has swapped diesel vehicles for new electric cars and vans to collect and deliver medical equipment and patient samples around the local area.
The team has just taken delivery of five electric Renault Zoe E-Tech cars, with three electric vans to due arrive in November this year. The team hope to change the remaining vehicles to electric when the range of batteries allow; they can't currently use electric vehicles for longer journeys due to charging constraints. The vehicles cover around 25,000 miles every month doing drop-offs and pick-ups across the area.
The change is just one of the measures that the Airedale NHS Foundation Trust has implemented to reduce its carbon emissions. The Trust also has a car leasing scheme for staff which offers incentives for people that choose electric cars. There are also lots of low-cost charging points on site so people can conveniently charge their cars while they're at work.
AGH Solutions has recently signed up to the Clean Van Commitment, which is a public pledge to move to zero emission vans in cities by 2028. It is estimated that by changing to an electric vehicle, you reduce CO2 emissions by up to 50%. Thus, this change could mean that AGH Solutions will reduce their CO2 emissions by up to 1,862kg per month.
Jon Wilson, Head of Transport at AGH Solutions, says: "Not only does a change to electric vehicles reduce emissions, but it also shows that we take climate change seriously and want to set an example to others.
"It makes sense that as we provide services to the NHS; we try to improve the health of those around us. One of the biggest ways of doing this is by changing the vehicles we use to electric."