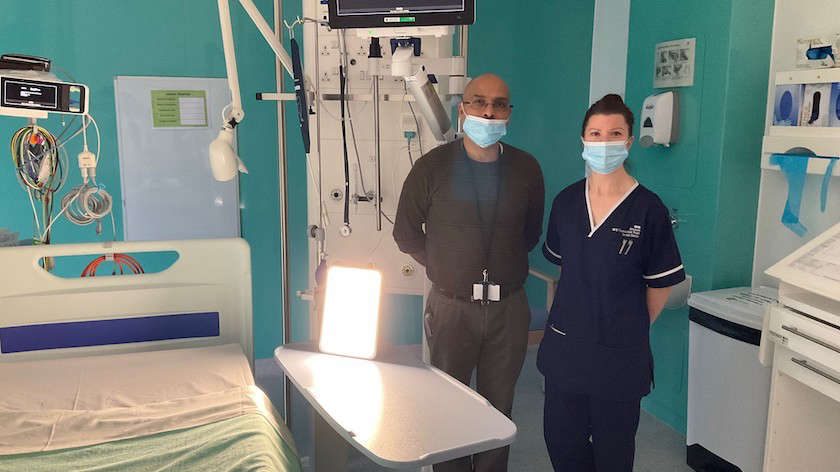 Patients receiving intensive care at Airedale Hospital are set to benefit from new sensory lights to help them maintain sleep patterns.
Airedale Hospital and Community Charity has funded 12 Lumie sensory lights for the Critical Care Unit.
Dr Premraj, Intensive Care Doctor and Divisional Director for Medicine Communities and Therapies at Airedale NHS Foundation Trust, said: "Natural light has an influence on Circadian pathways, melatonin and Vitamin D production, cortisol levels, impacts immunity, and inflammatory reflex. Hence, the prolonged absence of natural light can cause disruption to any of these functions and has real potential to alter the course of disease of the patients and physiology of health care professionals particularly nurses who have 12-hour shifts.
"The sensory lights rich in blue spectrum light allow clinicians to regulate light for patients on the critical care unit which helps to maintain normal day and night sleep patterns, improves delirium, and has the potential to decrease length of stay on ICU. In health care professionals, sensory light has the potential to reduce fatigue, improve sleep, avoid metabolic disturbances, and help improve quality of life.
"Thank you to Airedale Hospital & Community Charity for funding this important piece of kit."
As well as the impact on delirium, levels of daylight can also affect people's mood, as serotonin levels are dependent upon how much sunlight you are exposed to. The lights are customised for the hospital environment, meaning that they can be cleaned properly, secured to over-bed equipment, and are portable to suit the needs of each individual patient.
In 2022, Airedale Hospital and Community Charity ran its Intensive Care for Airedale appeal which raised funds to buy items that are over and above standard NHS funding. The Yorkshire Building Society supported the appeal by generously donating £1,500 for 12 sensory lights, one for each bed on the unit.
Jodie Hearnshaw, manager at Airedale Hospital and Community Charity, said: "Thank you to The Yorkshire Building Society Charitable Foundation for supporting our Intensive Care for Airedale appeal, and to Fiona from the Keighley branch for recommending that we apply to the foundation. We're really grateful for their support which will make a big difference to patients on our ICU."