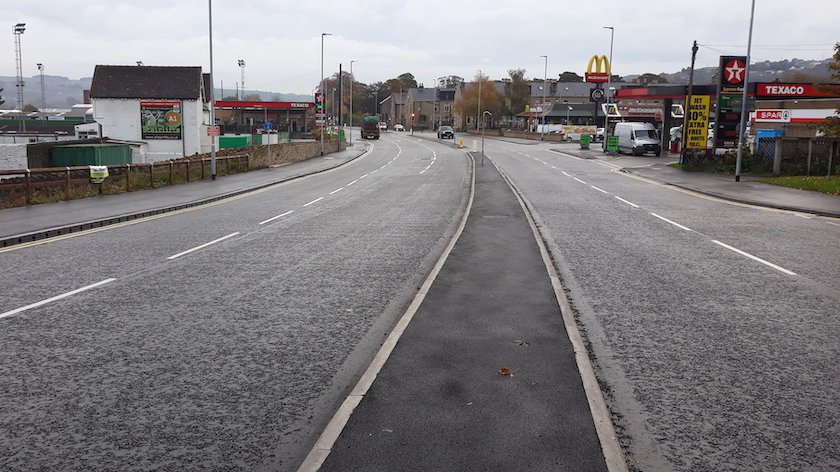 A major project to widen the A650 along the edge of Keighley has been recognised at at the Chartered Institution of Highways and Transportation Awards.
The work, which took place in 2019 and 2020, was designed to improve congestion and safety, by providing two lanes in both direction between the Victoria Park roundabout and the A629 roundabout at Beechcliffe - adding the 'missing link' between the dual carriageways to Bingley and Kildwick.
Traffic lights have been added on the roundabout, as well as a new pedestrian and cycle crossing close to the junction with Lawkholme Lane. There are also new green spaces, created to improve aesthetics, air quality and noise pollution. Plus new energy efficient LED street lighting was installed along the length of the highway.
The £9.33m project has won the John Smeaton Award for the Best Large Highways and Transportation Project 2021 for the Yorkshire and Humber - which recognises the best project, study or scheme valued over £1million completed in the last 18 months in the region.
The judges were particularly impressed with the wide ranging scope of the scheme which took into consideration the areas surrounding the highway, and its benefits to the community and the region. The also said it was 'very high value for money', with a cost-benefit ratio of £6.24 to every pound spent.
The scheme was designed and delivered by Bradford Council's Planning, Transportation and Highways Services Teams with West Yorkshire Combined Authority as the funding body. Work was undertaken by Howard Civil Engineering.
Councillor Alex Ross-Shaw, Portfolio Holder for Regeneration, Planning and Transport, said: "This is fantastic news and we are delighted to be recognised for all the hard work and diligence that went into upgrading one of the districts' most important routes.
"We've had fantastic feedback locally and I'd like to congratulate and thank our council officers for all their hard work delivering this scheme.
"While it is too early to fully judge the performance of this project, schemes like this deliver significant benefits to local people including reduced travel times, and improved road safety."