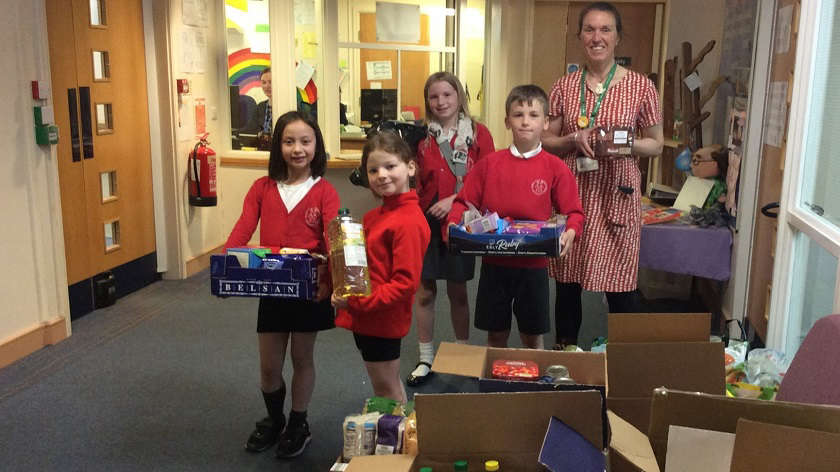 Pupils from All Saints' Primary School in Ilkley have recently taken part in a 'special day of donations' to collect food items for asylum seekers and refugee families living in Bradford.
Mr Stuart Gawthorpe, Deputy Headteacher, led the initiative after attending one of the regular days out for the families organised by the Wharfedale Refugee Response Group and meeting some of the families benefitting from the work of the charity Refugee Action in Bradford.
As he explains: "It was a real privilege to spend time with the families recently at All Saints' Church and I enjoyed getting to know them. They told me that as a group they try to meet together to cook meals for everyone to enjoy which I found particularly heart warming. This is obviously very important for the families as many of them feel isolated and alone and rising food prices are a real challenge.
"Listening to the group talk so warmly about these get-togethers was uplifting, however when I spoke with Christy Bischoff, the families project worker with Refugee Action, she told me that they are running low on some of the basics that they need to continue with these special occasions.
"Knowing the care and compassion shown on a regular basis by our children and their families at All Saints', I was hoping that together we could help restock their food staples so they can continue this vital community activity. I've been really proud of the overwhelming response and delighted with the amount of donations we have received. I would like to thank everyone who has contributed."
Each of the year groups from Early Years to Year 6 was assigned a particular set of items to donate, such as vegetable/sunflower oil, UHT milk, tea, coffee and sugar, to ensure that all the necessary food staples could be collected.
The children brought their donations into school last Tuesday 16th May, and Felicity Tomblin, a member of the Wharfedale Refugee Response team and an All Saints' staff member, delivered the items to the Refugee Action offices in Bradford.
Christy Bischoff, the families project worker with Refugee Action said: 'The food that has been collected for asylum seeker and refugee families is amazing. It is heart-warming to see the outpouring of love and support the families at All Saints' have for those in the wider community. This food will ensure our outreach work on a Wednesday afternoon with asylum seekers and refugee families can continue. The families love cooking meals for one another and these food donations ensure we can continue to feed the families we support at this group.'
For more information about the work of Wharfedale Refugee Response group, please follow their Facebook page (facebook.com/wharfedalerefugeeresponse) or email wharfedalerefugeeresponse@gmail.com to join the mailing list