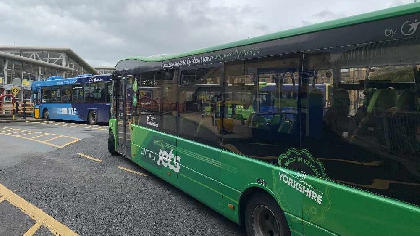 Evening bus trips across Ilkley, Keighley and Skipton on Transdev buses will remain £1 through until the end of the year as part of efforts to help boost the pre-Christmas economy.
Transdev - which operates the Keighley Bus Company as well as services elsewhere in Yorkshire, Lancashire and Greatest Manchester - says it hopes the offer will encourage more people to enjoy a safe night out in our local pubs and restaurants.
The £1 flat fare applies to any single journey on any evening after 7pm - on any Transdev bus in the three areas, regardless of the distance travelled.
Transdev Commercial Director Paul Turner said: "We know our buses can play a vital part in Yorkshire's economic revival beyond the pandemic, and with that in mind, we created our £1 after 7pm fare deal to support the North's evening economy and help everyone to enjoy travelling safely for less.
"We originally planned to offer the £1 evening fare until the end of September, and as it's clearly helping to attract more people to return to the bus with all the benefits that brings to leisure-based businesses, we've decided to extend it through until the end of December.
"All of our buses are clean, safe and ready to go as always, and with this extended low fare in place, we hope our offer will deliver a welcome early pre-Christmas boost to the economic revival already being seen in Yorkshire's town and city centres."