Where can I see Santa?

Skipton area
The Skipton Craven Rotary Santa Sleigh will be visiting Skipton this December.
Santa will be on the road throughout the month as follows, between 5.45pm and 8pm:
Wednesday 8th - Carleton Rd/Carleton Close/Carleton Avenue/Burnside estate.
Thursday 9th - Carleton village
Friday 10th - Moorview Way to Hurrs Road
Monday 13th - Sackville Street/Castle Street and surrounding roads/Ermysted Street/Sunmoor Drive
Tuesday 14th - Horse Close estate
Wednesday 15th - Greatwood estate/Aldersley Avenue
Thursday 16th - Princess Drive/Regent estate/Green Acres/Overdale Grange
Friday 17th - Bradley village
Monday 20th - Granville Street/The Raikes/Raikeswood Road/Raikes Road/Tarn Moor
Wednesday 22nd - Gargrave Road/Gainsborough Court/Woodlands Drive/Rockwood Drive
Thursday 23rd - Embsay village
He'll also be at Morrisons and Tesco in Skipton on the following dates, between 10am and 4pm each day:
Friday 3rd - Morrisons Skipton
Saturday 4th - Morrisons Skipton
Sunday 5th - Morrisons Skipton
Friday 10th - Morrisons Skipton
Saturday 11th - Tesco Skipton
Sunday 12th - Tesco Skipton
Friday 17th - Morrisons Skipton
Saturday 18th - Tesco Skipton
Sunday 19th - Tesco Skipton
Find out more at facebook.com/skiptoncravenrotarysantasleigh
The Christmas Adventure at Thornton Hall
Santa is at Thornton Hall Country Park at Thornton-in-Craven until 24th December: Find out more at christmasadventures.co.uk
Ilkley area
Stephen H Smith's Garden Centre
Santa is in his grotto at Stephen H Smith's, Pool Road, Otley.
The Ilkley Round Table 'Santa Float' will visit Addingham, Ilkley and Ben Rhydding from 12th December:
Sunday 12th, 4.30-7pm - Addingham
Monday 13th, 6-8pm - Valley Drive
Tuesday 14th, 6-8pm - Ilkley Town Centre
Friday 17th, 6-8pm - Ben Rhydding
Sunday 19th, 4.30-7pm - Dale View
Detailed routes will be available on the Ilkley Round Table Facebook page: facebook.com/ilkleyroundtable where they'll also be a Santa Tracker, so you know when he's close to you!
Burley-In-Wharfedale
Santa's Sleigh is coming to Burley with the Scouts and Girlguiding. Santa's elves will not be knocking on doors this year so please look/listen out for us.
Wednesday 15th, from 6pm - Sun Lane, Mansfield Rd, Wrexham Rd, Greenhow, Hall Dr, Southfield Rd, Copse, Langford Rd, West View, Aireville
Thursday 16th, from 6pm - Midgley Rd, Manse Rd, Station Rd, Long Meadows Estate, Main St, Wellfield
Friday 17th, 6pm - 7pm - Scalebor Sq
Sunday 19, from 4pm - Endor Cr, Holme Grove, Hill Cr, Sandholme Dr, Prospect Rd, St Michaels Way, Hasley Rd, St Philips, Fenton St, Lawn Ave, Grangefield Terr
Keighley area
Stephen H Smith's Garden Centre
Santa is in his grotto at Stephen H Smith's, Wilsden Road, Harden.
Silsden
The Silsden Gala team are taking Santa on the road around Silsden for a Christmas Parade on Saturday 11th December between 3.30pm and 6pm.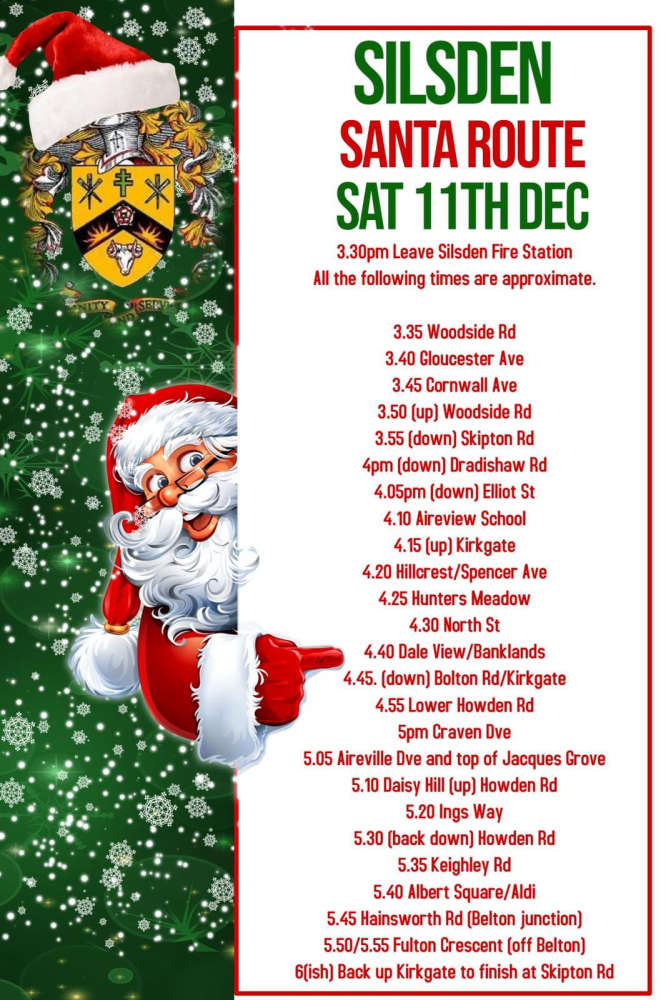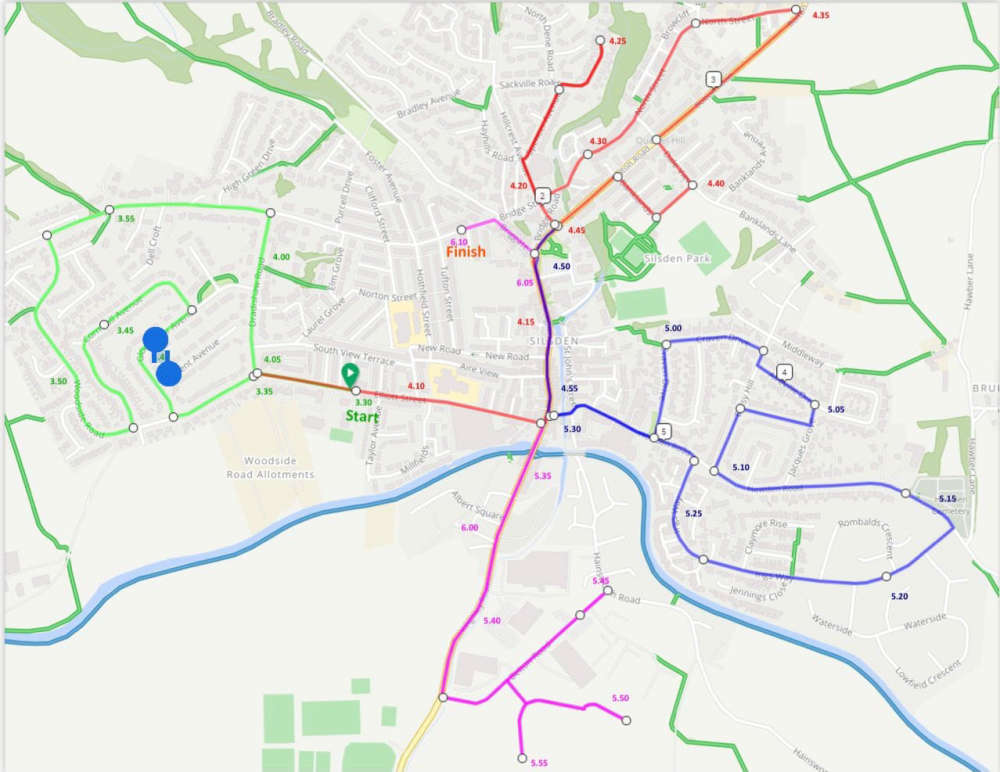 Skipton

Sunny intervals

High: 14°C | Low: 6°C

Ilkley

Sunny intervals

High: 15°C | Low: 6°C

Keighley

Sunny intervals

High: 15°C | Low: 6°C